Ala vaikunthapurramulo Kosamerupu – "Allu Arjun Ki manchi kick ravadamtho, Ramuloo Ramulaa Song loni steps tho special gaa half coat step alias dosa step vesi tana fans ki pichha kick ichhi Ala Vaikunthapurramuloo Musical Concert ni muginchaadu"
"Ee Sankrnathiki naa cinematho patu Naaku baga ishtamaina Rajinikanth – AR murugadoss gari Darbar kuda release avutondi, adi kudaa pedda hit avvaali. alaahe Mahesh babu gari Sarileru Neekavvaru cinema Kuda release avutondi adi kudaa hit avvaali, alaage naaku manchi snehitudaina kalyan ram gari Entha manchivadavuraa kudaa vijayam saadhicnhalani korukuntunnanu" – Allu Arjun
"Evarikainaa Fans Unnaru, naaku maatrame Army undi. Naa Fans lo Chala Mandi tattoos vesukunnaaru. vaarandarikee okkati chebutunnaanu. Meeru, mee family andaru garvamgaa cheppukune vaadi tattoo vesukunnaavu raa ani garvapade stage varaku naa prayanam aagadu" – Allu Arjun
"Nenu chusina chala mandi fathers He is the best and the best person in my life. Maa father industry ki chala chesaaru. Padma sree ki maa Nanna arhulu. Anduke sabhaa mukhamgaa andhra pradesh, telangana prabhutvalaki request chestunnanu" – Allu Arjun
"Naa first cinema nunchi ippati varaku aaredu cinemalu chesaanu. kaane eppudu ekkada thanks cheppaledhu. kaanee ee roju sabhaamukhamgaa ayanaki thanks chebutunnanu. naaku Koduku puttina tarvata naakarthamaindi, Neneppatiki Maa nanna anta goppa vanni kaalenu. kanisam life timelo ayanalo sagam ithe chaalu anukuntunnanu. I love you Daddy' – kallu chemarchina kallatho Allu Arjun
"Naa Prathi Korikani, naa Ishtanni anni kalagalipi ee cinemaalo chupincharu. Ee cinema repu em saadhinchina, entha reach ayina daaniki kaaranam tRivikram gaare" – Allu Arjun
"Memu chala kashatapadi chesina steps, Half coat step promotions anni pakkakellipoyaayi, naa kuturu cheppina Dosa step maatram famous ayipoyindi" – Allu Arjun
"Katha vinagane ee paatra Sushanth chestene baaguntadi anipicnhindi, kaani tanukudaa herogaa chestunnadu ani production nunchi adiginchaanu. kaani tanu react ayina vidhanam, tanu katha kuda full ga vinakunda chesadu. ee cinemaatho naakentha peru vastundo, anthe peru sushanth ki kudaa vastundi" – Allu Arjun
"Thaman ki ippati varaku chalaa block buster movies vachhaayi, kaani ee cinemaatho sangeetha darshakudigaa tanaki Gouravam dakkindi. aa vishyamlo nenu trivikram gaaru chalaa proud gaa feelavutunnaam" – Allu Arjun
"Samajavaragamana hit ayyaka maa wife oka roju chiraaggaa vachhi.. ekkadiki vellinaa ee pate vastondi adee nannu chuse padutunnaaru siggochhi vachhesaa anindi. Aa timelo anipinchindi bayata heroism chupinchadam kaadu pellaam mundu chupinche heroism lo unna feele veru" – Allu Arjun
"Sarainodu, DJ, Naa peru surya tarvata oka saradaa cinema cheyalanukunnanu. Daanikosam ee combination set ayyi, katha ready ayyi cheyyadaaniki inta time pattindi. Cinema cheyyadamlo gap vachhindi kaani theaters lo rachha ki maatram assalu gap undadu" – Allu Arjun
"ee madhya lyrical songs anni routine gaa untunnaayi edannaa kottagaa cheyyaali. mixing chese person nunchi singers, lyrisit ila anadaru kanapadelaa edannaa cheddaam ani lyrical songs lo kottadanam srushtinchi, teravenuka unde andariki inta gouravanni ichhina credit mottam Bunny ke chendutundi' – Trivikram.
"ee cinemaki modalu chivaru allu arjun gaare.. oka saayam sandhyaa samayamlo black coffee taguthu ayana cheppina maata anandamgaa, ahlaadamgaa cheddam sir edainaa ani cheppaaru aa maatallonunche ee katha modalaindi" – Trivikram.
" Tala duradapedithe gokkovadaaniki duvvena undi, kani manasu duradapedithe gokkovadaaniki emundi ante ade sangeetham antaanu. mana masuku ahlaadanni ichhe sangeetam tho ee sayantram mana kallu chemarche anubhavanni kaliginche sangeeta, sahithya, gayanee gaayakulandarikee naaku krutagnatalu" – Trivkram.
"Pelli kaani yuvakudi nunchi iddaru pillala tandri varaku nenu chustu unna bunny work kosam pranam pettestaadu. ninna 2 varaku panichesaru maatho. Great dedication" – Trivikram
And the captain of the ship and our very own Maatala Mantrikudu Trivikram Garu on stage now.
"2019 vidukolaki Prathi Roju Pandage Echadu. 2020 welcome ki Ala Vaikuntapurramloo esthunadu". Allu Aravind
Mega producer Allu Aravind Garu on stage now.
Blockbuster music composer SS Thaman speech now.
100 million Blockbuster song 'Samajavaragamana' live performance time on stage
Akshara Brahma Sirivennela Seetharama Satry Speech time – "Ee vedukanta vijayam cinemaa kudaa avutundi. Sangeetham, saahithyam, swarabhishekam, nruthyam ane kalala sanghamam laa undi ee veduka. Oka Vidhyuth teega nartistunnattu kaduluthune untaadu. athanu kanapadithe ala maimarachipoyi chustuntaanu. Telugu Bhashatho kaadu manasu bhashatho vinnaaru andauke ee patalni 13 kotla mandi vinnaru. Samajavaragamana pata kosam nenu allu arjunni ayyaanu, anduke nenu alaa pata rayagaliganu. Cinema release ayyaka ee vaibhavanni chudataaniki kanakamahalakshmi theaters ki kadili vastundi".
Tabu speech time ' 'I'm proud of this movie. 10 years tarvata naaku telugu cinemaa cheyadaaniki itakanna better movie undadu. Meeku cinema nachhite naa 2nd innings kudaa super success avutundi. Naa telugu audience andariki thanks'.
The blockbuster Ramulo Ramula song live performance is happening now.
Here's Allu Arjun's 'Ala Vaikunthapurramulo' trailer review
Ala Vaikunthapuramulo trailer review: Trivikram Style Bunny Punch
Fantabulous Sivamani live drum session is happening.. every one enjoying this like a super hit film.
"I'm biggest fan of Allu Arjun. bunny tho pani chese avakasham ravadam naa adrushtam. trivikram gaaru naaku offer ivvadame kaakunda naalo kotta shade ni chupincharu. team andariki biggest thanks" – Actress Nivetha peturaj
"Ala vaikunthapurramulo Title song raayadam naa purva janma sukrutam" – Lyricist Kalyan Chakravarthi
'pandagaputa meeru ticket konukkoni theater loki velli lights aapi, projector on cheste meeru theater ki vachhinattu undadu, meme mee intiki vachhi meetho samayam gadipinattu untadi. Bunny lo stardom, rich ane attitude anedi undadu. parugu timelo maku caravan ni parichayam chesindi aayane. ee cinemaa biggest blockbuster avutundi' – Comedian Sunil
Its time for much hype created Priya sisters live performance for Ala vaikunthapurramuloo title song..
Hero Sushanth Speech – 'Naaku ee movie offer call vachhinappudu so excited. just line cheppaka trivikram garu malli ful cheptaanu tarvata familytho matladi decide avvu annaaru kaani nenu okkate cheppaa cinemaa chestunnanau evarinee adagadduani ok chesaanu. nenu entho nerchukunna, allu arjun is so sweet'.
The much awaited Ala vaikunthapurramulo Trailer is here
Its time for Indian famous singer Armani Malik's Buttabomma song live performance.
Actor Samudrakhani, who played main villain role he expressed his big thanks to all the team members.
Lyricist and Writer krishna Chaitanya speech "Jeevitamlo andariki oka guruvu untaaru, naaku Trivikram gari rupamlo dorikaru. thanks to allu arjun and thaman for this oppurtunity'.
AVPL Musical concert real heroes alias singers Role Rida, rahul Nambiyar, Pranav and team on stage.. they started rocking performance with OMG Daddy song
The real live orchestra is going start under Thaman S and world famous drummer Sivamani.. It's show time..
'Trivikram garthi working maruvalenidi. ayanatho working nate achhamaina swachhamaina telugu vinachhu. Allu Arjun ite inta stardom unna ippatiki prathi scene, prathi shot tana first movie first shot laa chestaadu'. – Female Actor Rohini
Just Stylish Star Allu Arjun entered to AVPL Musical concert and too much of cheers and whistles from fans
'Thaman songs tho, allu arjun dancelatho, Trivikram matalatho adaragottesaru. ika cinemaa baagunte mega fans blockbuster tho records adaragottestaru' – Dil Raju
Sudden Surprise to Allu Arjun Fans – The much awaited Theatrical Trailer of Ala Vaikunthapurramuloo will be out at 09:09pm.
Trivikram siad that ' ee movie nunchi Ram-Laxman masters choreographers kuda busy ipothaaru. allu aravind gaariki baagaa nachhina aa special action song anta baga ravadaaniki velliddare karanam'.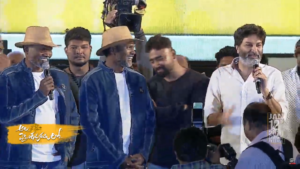 Special highlight of the AVPL Musical Concert – Fight Masters Ram-Laxman are too happy and first time they dance on stage along with Trivikram Srinivas.
It's time for Action masters Ram-Laxman speech 'Dear Audience meere andi kick, meeru lekapothe memu lemu, cinemaallevu. meeruntene memu fights cheyagalam, allu arjun dance lu cheyadam undadu. anduke meeku talonchi dandam pedutunnam. Fights lone kaadu modati saari songs lo kudaa maatho fights cheyinchina trivikram gariki maa danyavadalu. Allu Arjun indulo stylish fights chestaru'.
Massive stage set and crowds at AVPL musical concert
Blockbuster Samajavaragamana Song female version sung by Shreya Ghoshal. Now its playing for Allu Arjun fans.
Talented Singers hanuman and Saketh performing live singing for Allu Arjun medley.
One More time Satya master and team dance performance on Allu Arjun's Medley
National and International famous MJ5 team giving tribute to world famous Michael Jackson on behalf of Allu Arjun.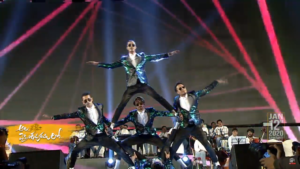 It's time for blockbuster combination Allu Arjun – Trivikram movies song medley performance.
The Mind-blowing action masters Ram-Laxman entered to AVPL musical concert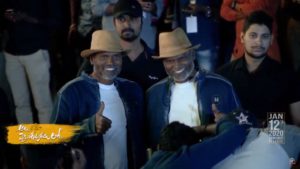 The Super Hit Ala Vaikunthapurramulo Teaser playing for all over India Allu Arjun fans
The most famous Indian raga team(Karthik Raman, Poornima Imani, Anirudh Sharma) performing AVPL Blockbuster Album with soulful live orchestra.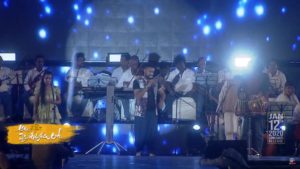 Satya Master and Team Energetic Performances for Alluarjun and Thaman Blockbuster Movies Sarrainodu and Race Gurram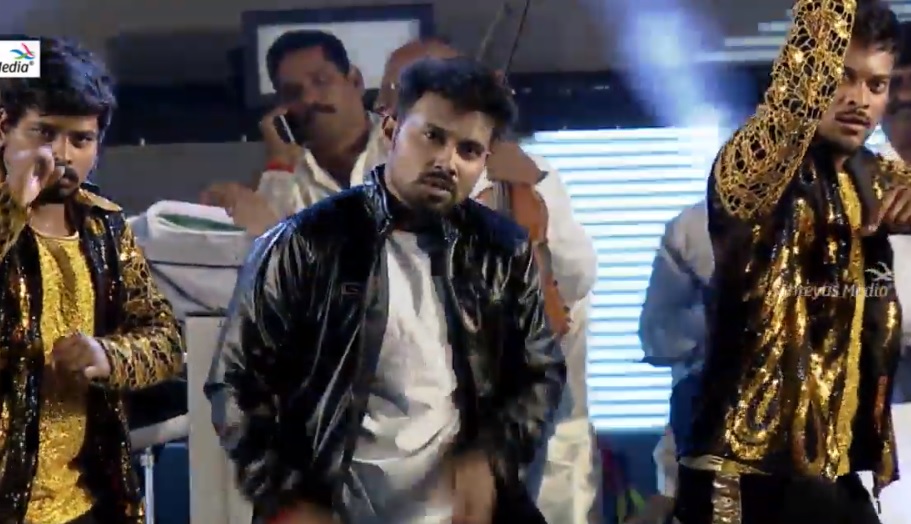 Classical Dance Performance for SONG OF THE YEAR Samajavaragamana
Finally #AVPLMusical Concert Started with As Usual Energetic Anchor Suma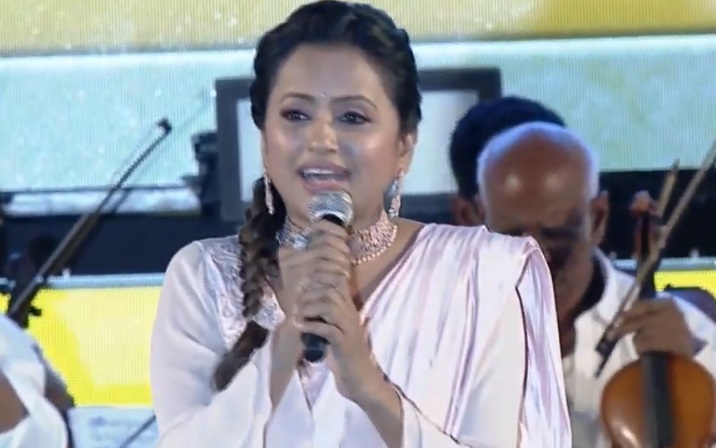 Live: Ala Vaikunthapurramuloo Musical Concert | Allu Arjun
Eluru AA fans Mass Statement – 'Sankranthi Magaadu – Cheppina Time ki Vastunnadu'
Here is the main stage setup of Ala vaikunthapurramuloo Musical concert.. What a crazy led setup, it should be eye feast for fans.
Some of the big hoardings from AVPL Musical Concert entrance gate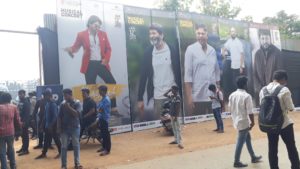 Mass celebrations started.. offline lo racha leputharu????… movie celebration on nxt level
70 Feet MASSive cutout of Stylish Star Allu arjun at #AVPLMusicalConcert ????
Get ready for MASS EUPHORIA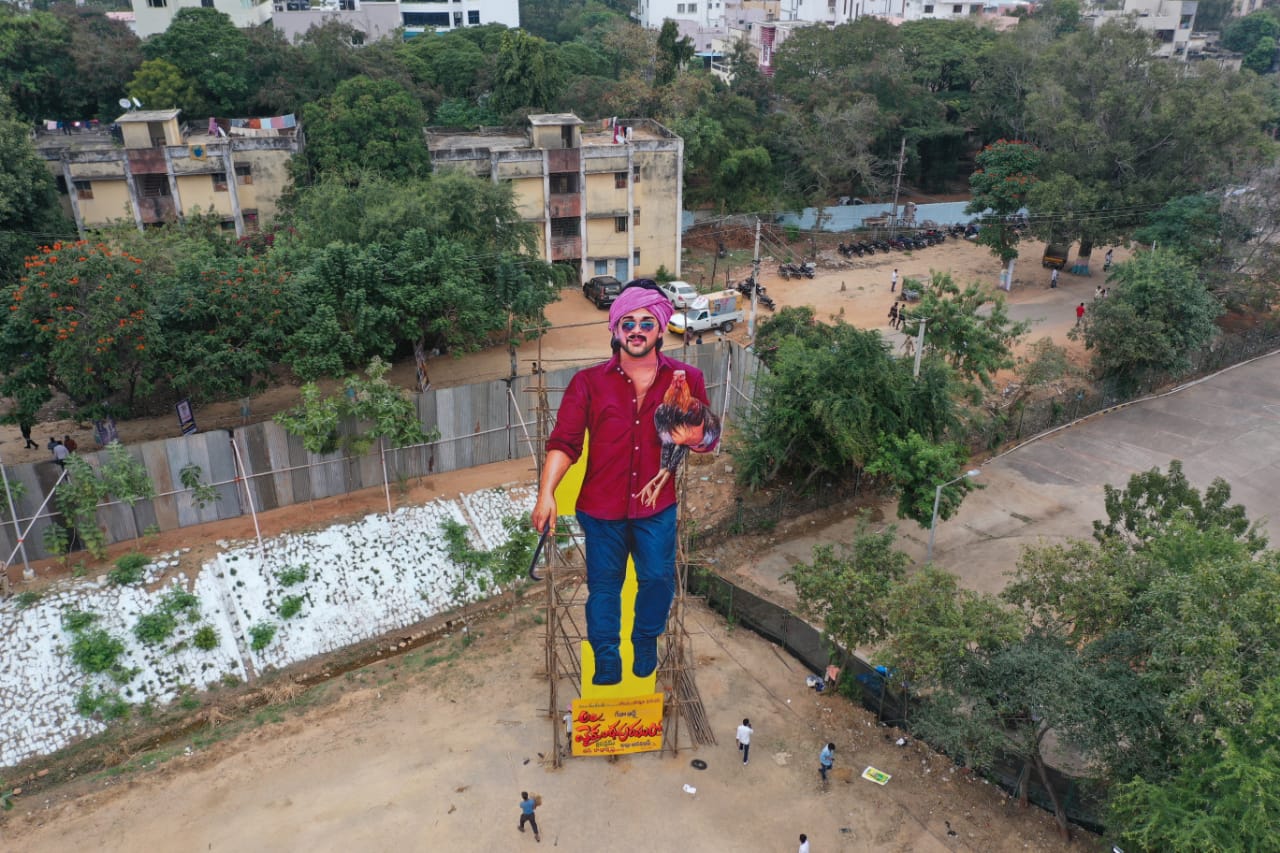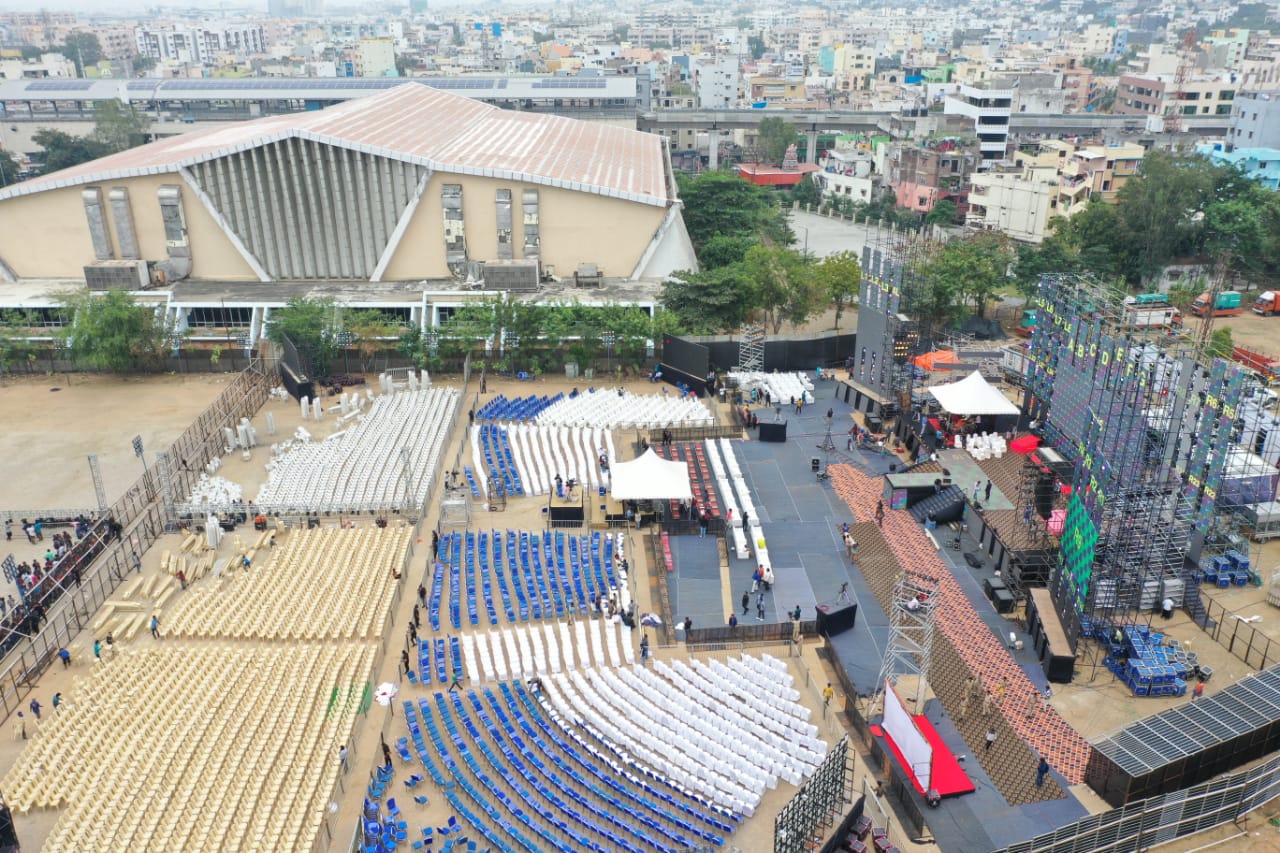 Biggest disappointment news for fans is there is no Trailer release at AVPL Musical Concert and It will be completely musical night.
Man of Today Night in AVPL Musical Concert Thaman along with his singers Sid Sriram and Armaan malik are Ready to Rock
Everything ready for South India's biggest music concert
Tamil Media also covering Allu Arjun's Ala Vaikunthapurramuloo music concert and they are arrived to Hyderabad.
By 4:20PM full of crowds at the entrance of police grounds, Yusufguda for AVPL Music Concert.
Less than 3 hour to go for the Grand Ala Vaikunthapurramuloo Musical Concert and Here is New Poster of AVPL.
Huge Allu Arjun fans at Police grounds, yusufguda and all are ready to do 'Rachha Rachha'
Maharashtra Allu Arjun fans reached Hyderabad for South India's Biggest AVPL Musical Concert.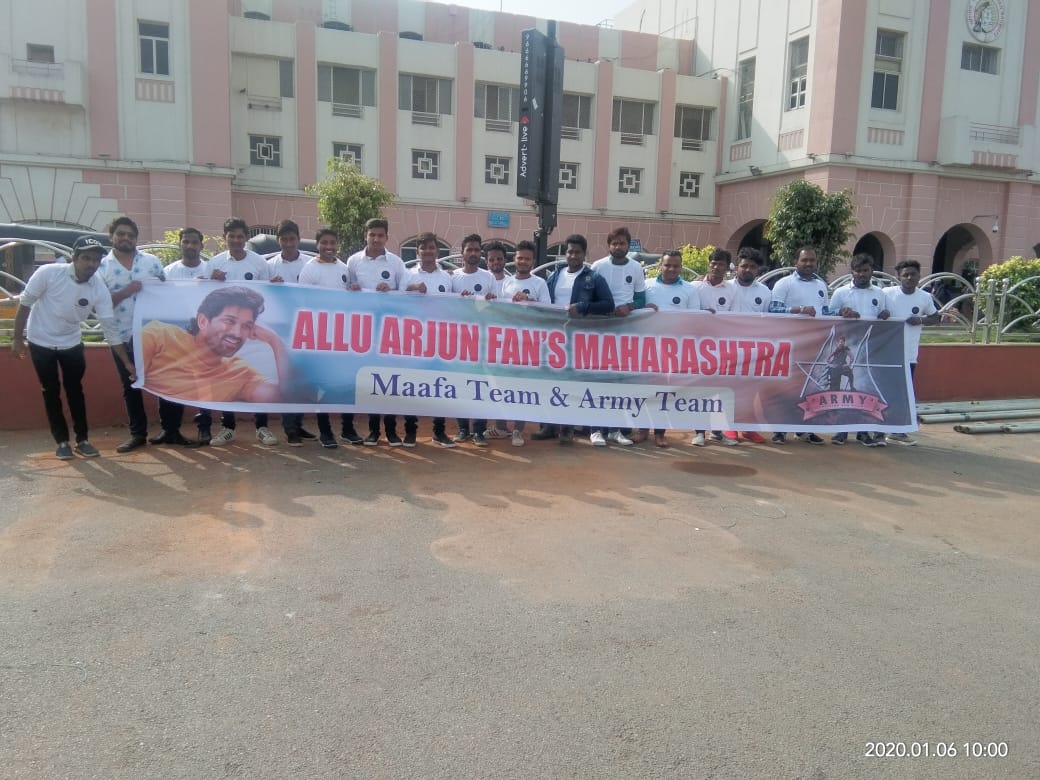 Allu Arjun fans Army from Vizag and Anakapalli. They are chanting "Jai Bunny Jai Jai Bunny" before starting to AVPL Musical concert.
From yesterday crowds started to Ala vaikunthapurramulo musical concert and It will be the biggest south indian musical concert.
Yesterday Stylish Star Allu Arjun fans launched new year calendar at Ala Vaikunthapurramulo musical concert venue