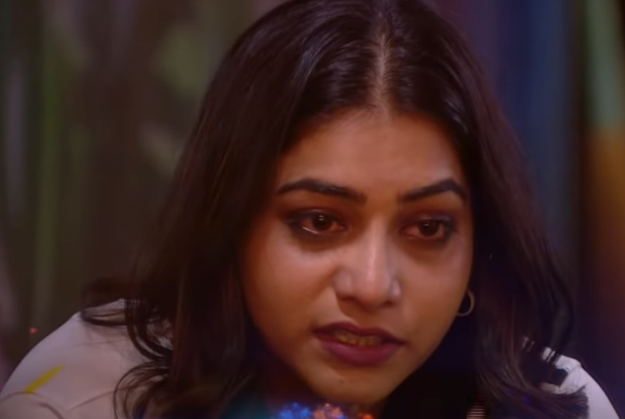 Punarnavi is often seen with Varun, Vithika and Rahul Sipligunj in Bigg Boss 3 Telugu. The four were part of one group. But it seems, the things went wrong now and the group broke up.
In the last night's episode, as part of the nominations, Sreemukhi nominated Punarnavi, saying that Varun leaked an information about her. According to Sreemukhi, Punarnavi told Varun that the star anchor is weak in the physical tasks and that is the reason she tries to provoke everyone by shouting loud.
Shocked over this revelation, Punarnavi broke into tears as she did not expect Varun being a good friend of hers, would leak the information to Sreemukhi.
Also read: Ali's elimination, a lesson to Sreemukhi in Bigg Boss 3 Telugu
Punarnavi shared her feelings with Mahesh Vitta in the last night's episode and said that the three people (Varun, Vithika, Rahul) whom she shares everything are now away from her.
However, the disturbances may not be for long, as the group shares a good bonding, which is much bigger than these petty issues. Meanwhile, Punarnavi mingling with other housemates apart from her group is going well with the audiences and is also expected to increase her mileage in the Bigg Boss 3 Telugu house.