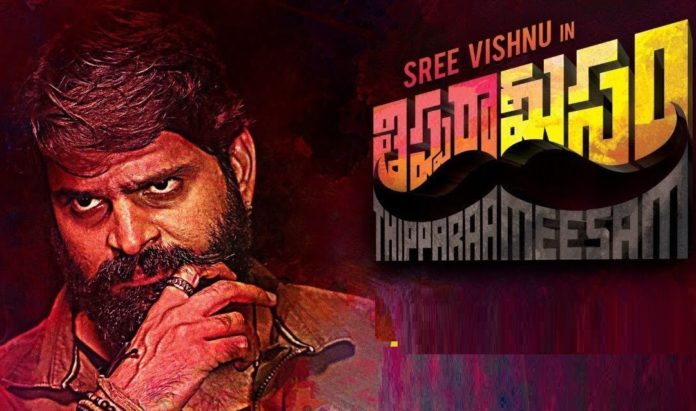 Story:
Mani Shankar (Sree Vishnu) is a drug addict. His mother (Rohini) tries to get him away from the drugs, due to which he develops an enmity with her. He also involves in betting which further troubles his mother. What are those troubles? Did the differences between mother and son got cleared at the end? Watch the film to know the answers for it.
Story strength: Emotion is good, but no required strength in story
Highlights:
– Pre-climax and climax twists
– Sree Vishnu-Rohini emotional performance
– Suresh Bobbili's BGMs and sound effects
– Visuals
Boring
– Weak story line
– Movie length
– Slow narration
– No entertainment
– Unimpressive love track
– Action episodes could have been better
Finally: Fails to reach expectations
———————————————————————————————
Live Updates: Sree Vishnu's Thipparaa Meesam FDFS at 8th November 7.00 A.M IST
09.30 AM: Hero now meets his mom and family. A few sentiment scenes are on. Hero leaves house and the movie ends.
09.20 AM: Kaali attempts to rape hero's sister and in this process, she kills him. A series of twists are taking place and the movie is heading towards climax.
09.15 AM: Meanwhile, Kaali brother is waiting outside to murder hero. Now the suspense is "who killed Kaali" and why did hero confess and went to jail?
09.10 AM: Hero then agrees that he murdered Kaali and the court imposes him 7 years of imprisonment. Heroine approaches the hero in jail and asks him to tell the actual truth. But he remains silent. Hero gets released within 4 years, due to his good behavior.
09.05 AM: Police arrests hero and Kaali's friend as suspects. As part of the investigation, the concerned officer beats both.
09.00 AM: Kaali hits a hero and takes the money bag. Suddenly Kaali gets murdered. Kaali's brother Durga takes oath to kill, who killed Kaali.
08:52 AM: Game is to find a car in which Rs. 30 lakhs are hidden. The participants, hero and Kaali are in search of the car. Kaali Finds the bag and a fight is on between the duo.
08:45 AM: Police arrests Manishankar and a girl (Anchor Lahari) in a hotel. Twist and a new conflict arises now.
08.40 AM: Mani Shankar resolves his issue with Joseph and started celebrating the happy moments with a pub song.
08.35 AM: After an impactful court scene, highly emotional scenes between hero and mom are on now.
08.30 AM:Director tries to involve Arjun reddy's flavor in Sree vishnu's love story but didn't work out. Mani Shankar's mom meets him and emotional scenes are going on now.
08:27 AM: Now the sad song has been going on about Mani Shankar's love story.
08:25 AM: The second half started with an action episode between Mani Shankar and Kali.
08:20 AM: First-half report: Sree Vishnu's character and performances are okay. Cinematography, background music, and sound effects are technically great. Emotional scenes between mom and son are good. The story has nothing to offer for the audience and the director fails to bring the engaging factor in the first half. Let's see what is in store for us in the second half.
We hope the director will make sense for our hard-earned bucks and time with the second half.
08:15 AM: The film is inching towards interval now. Mani Shankar lands in personal conflicts with his ladylove and mom.
08:05 AM: The pre-interval block is on now. An emotional conflict between Mom and son arises.
08:02 AM: Hero Mani Shankar cheats his mom to solve his problem.
07:58 AM: The emotional episode between Mani Shankar and his mom Rohini. The scene content and both actors' performances are brilliant.
07:53 AM: 45 minutes into the movie. Sree Vishnu's character is good. Visuals, BGM, and sound effects are the main assets of the film so far. But, the film hasn't entered into the actual story.
07:48 AM: To solve his problem, Mani Shankar decided to take a huge risk.
07:45 AM: Movie gets into the serious node now. Mani Shankar facing a lot of hurdles to resolve his problem.
07:42 AM: A montage song on their love scenes has been showing.
07:40 AM: Heroine Nikki Tamboli has been introduced as Mounika (A police trainee) and her entry scene is superb. Mani Shankar falls in love with her and proposes her.
07:35 AM: Now a conflict arises between Mani Shankar and Joseph due to bettings. Now Mani Shankar's character has the challenge to resolve it.
07:33 AM: In the first 30 minutes, the director just concentrated on the hero's character establishment and attitude. He hasn't revealed the story yet.
07:32 AM: Now the flashback mode switched to the present and Mani Shankar is introduced as DJ in a pub.
07:28 AM: He escapes from the rehabilitation center and started hating his mother for joining him.
07:25 AM: During his childhood, Mani Shankar is a drug addict. So, his mom joins in a rehabilitation center.
07:23 AM: Now the story enters into flashback mode!

07:20 AM: Mani Shankar and his family don't have good rapport but he always asks money from his family.
07:15 AM: Mani Shankar makes money by betting with others.
07:10 AM: Senior actress Rohini introduced as Mani Shankar's mother and Pallavi as his sister. Senior actor Banarjee is being introduced as Mani Shankar's uncle.
07:05 AM: Hero Sree Vishnu introduced as Mani Shankar with an action scene, in which goons trying to kill him.
07:00 AM: The most-awaited stylish revenge action drama Thipparaa Meesam movie started with a run time 2:38 minutes.