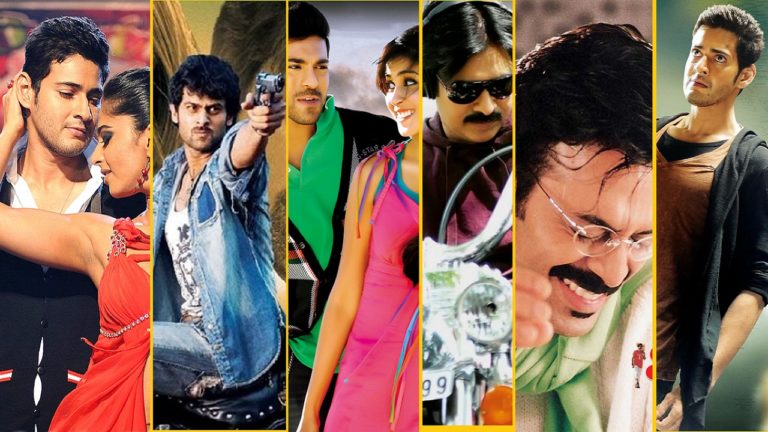 Firstname
Movie Name
Star Cast
Director
Producer
Run Time
Release Date
Some of the Telugu movies which failed at the box-office became the most-watched flicks when telecasted on Television.
Here we go, with a list of such movies which failed to grab the theater audience but gained huge TRP's when telecasted on TV.
1. Khaleja
After back-to-back flops, Mahesh Babu took a brief gap before the movie Khaleja. Directed by Trivikram Srinivas, Khaleja stars Mahesh Babu, and Anushka Shetty. The movie utterly failed at the box-office but then is termed as 'the most under-rated movie'.
2. Orange
Helmed by Bommarillu Bhaskar, Ram Charan and Genelia starred as the main lead in this love story. The movie was a flop at the theaters but grabbed the youth's attention. Even today, the movie is hailed as one of the most loved stories.
3. Theenmaar
Pawan Kalyan is one of those stars who has got an unimaginable following among Telugu audience. Most of his movies are celebrated like any other in Telugu states. Teenmar starring Pawan Kalyan and Trisha in the lead roles failed at the box-office. But, still remains as of the most loved movies for Pawan Kalyan fans.
4. 1 Nenokkadine
After back-to-back flops, Mahesh Babu had teamed up with Sukumar for this thriller. The movie introduced Kriti Sanon as the heroine too. Despite being critically acclaimed, 1 Nenokkadine failed to earn money at the box-office. Surprisingly, 1 Nenokkadine impressed the Television audience.
5. Bujjigadu
Rebel star Prabhas has gained a separate fan base for his mass cutout and acting. His movie starring Trisha, Mohan Babu and Sanjana hit the screens with huge expectations.
Though Prabhas's six-pack, Trisha's glamor, etc were huge plus points, the movie failed to impress the audience at the theaters. But, Bujjigadu is one of the most entertaining movies of Prabhas.
6.Vaasu
It is a known thing that Director Karunakar is one of those filmmakers who is a specialist in making feel-good love stories. Venkatesh is known for his family entertainers. So, the movie Vaasu which came with the above combination grabbed a huge buzz.
The music was marked as a hit but, Vaasu failed at the box-office. When Vaasu was telecasted on Television, it bagged huge TRP's and gained more popularity. Not just that, Vaasu grabs a decent number of viewers even after so many years of release.
7. Oye
Starring Siddharth and Shalmili the movie OYE came with huge expectations. Shamili who is well-known as a child artist entered the movie industry with this movie, the hype around was good.
But, as the movie has a sad ending, it was not well-received by the audience at the theaters. Despite the flop, the movie Oye grabbed huge TRP's when it was first telecasted on Television.