Allu Arjun, who is son of a star producer, nephew of mega star Chiranjeevi became an old tag to introduce him. No sooner, he bagged a stylish star tag unlike anyone with a mere 3 successive hits in the Tollywood industry. This is because of his relentless hard work, dedication and continued success, which made an indelible impression on everybody. His costumes, style statement, dialogue delivery and charisma that he carries in every movie has won him a huge fan following. He made his debut with the film Gangotri, which became a hit and then with a stylish performance in 'Arya' won many hearts.
This year the film 'Ala Vaikunthapuramulo', became a non bahubali all-time record and he proved himself at the box office. Today is the birthday of our stylish star Allu Arjun. He is a wonderful dancer, superb performer, whats-more, a most adorable and friendly person for all the industry people.
17 years have passed since Allu Arjun' stardom reigned the industry. Let's have a look at few of his style statements
Top five styles introduced by AA:

The first big blockbuster in his career was the introduction of cross bags to Telugu people through the movie Arya. After that, all the college students and youngsters followed it.
Happy cinema with his wrist bands and eccentric jackets. Since then, wristbands culture has grown even more.
A long hair with a six pack in Deshamuduru has caught everyone's attention. Fanaticism of this long hair style has made a huge impact those days.
In Arya 2 he introduced T-shirts and scarves combination to Telugu audiences for the first time. Until then, most people have got to see in Hollywood or occasionally in Bollywood.
Allu Arjun donned few stylish costumes in Race Gurram film, which went to become a trend in both states.
Top five Dialogue Mannerisms: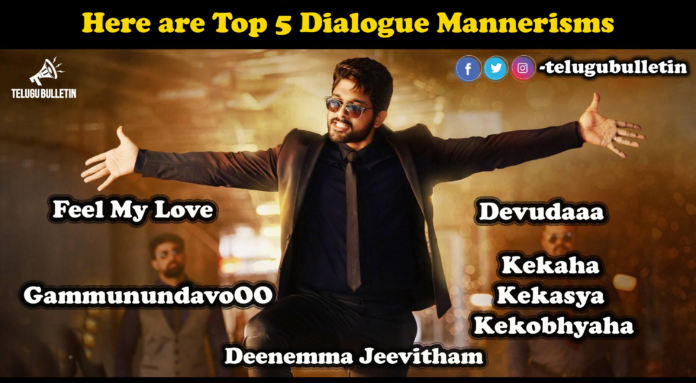 In Arya he essayed a role with a cool attitude saying to the heroine " Feel My Love" but no need to love. This bizarre characterization and dialogue delivery has got people gushing about him.
Allu Arjun became close to Mass Audience with the role Cable Raju in Vedam. 'Dinamma life' dialogue has pretty much impressed everyone and still being used.
Introducing the term 'Devuda' in the Racegurram film in a typical slang has been overly used by many youngsters in several funny occasions while taking a jibe on the opposite person.
Allu Arjun's Gonna Ganna Reddy role in the Rudramadevi movie, and all the dialogues in Telangana slang were well received. Especially the dialogue 'Gammunundavo' generated fun.
With a Brahmin's attire and slang in the movie 'Duvvada jagannatham', dialogues like 'rachaha rachasya rachchobhaya' and 'kekaha kekasya kekobhayha' connected well to the fans and is being used as a token of appreciation in daily usage.
Five roles that got etched in everybody's heart:
Arya can definitely be considered in the list when we reminisce any good love stories like Marocharithra, Geetanjali etc. This role has become a backbone in Allu Arjun's career and his legacy always continued with such unique roles.
Out of 5 roles in the Vedam film, the Cable Raju had a key role undisputedly. Class and mass shades that have been depicted has garnered more attraction to the fans.
Ravindra Narayan alias Ravi – The role of Ravi in ​​the film Julayi projecting dexterity and funny dialogue delivery made waves in his acting career
Lucky – Undoubtedly Lucky role in the race gurram movie has etched in everyone's heart. It has a close resemblance to an ideal good- for-nothing guy to whom everyone would have got connected somewhere.
Although short, Allu Arjun's Gonna Ganna Reddy role in the Rudramadevi movie made waves in his acting career. Undisputedly, this is one of the best characters played by him
Top five movies that broke the box office records:
Arya Cinema in Allu Arjun's career will never be forgotten. The film, which was made at around Rs 5 crore, touched the 20 crore mark at the box office. Allu Arjun is the only hero to have achieved this feat in 2004 with just his second film.
Julayi is yet another massive hit by Allu Arjun at a time when other actors in Telugu film are off the radar. Julayi is the first film in Allu Arjun's career to cross the 40 crore mark and he stealed the spotlight with many offers.
Race Gurram is one perfect film in all crafts and it was Allu Arjun's first movie to touch 50 crores mark at the box office and worldwide shares was 58 crores. It makes no pretensions to be a quirky film.
DJ and Sarrainodu were successive hits including overseas that has remained in the 70 crore club.
And finally it's needless to say about the movie Ala Vaikuntapurramulo that has created records in all the areas nationwide and overseas. The film, which was sold for Rs 85 crore, won a worldwide share of 163 crore.
This is Telugubulletin.com's analysis on Allu Arjun's career. Inspite of the corona pandemic, we still remember this special day and extend our heart felt birthday wishes to the STYLISH STAR ALLU ARJUN.